August 25, 2017
SMILab tests "Quadricopter Laser Doppler Vibrometer" at Albuquerque Balloon Fiesta
February 11, 2017
Shreya Vemuganti wins 2nd place in UNM STEM research symposium (Flyer)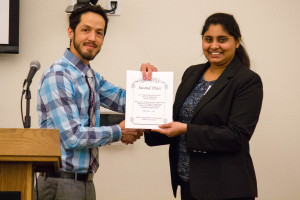 January 29, 2017
Dr. Fernando Moreu and Piyush Garg presented three papers from SMILab at XXXV IMAC conference held in Los Angeles.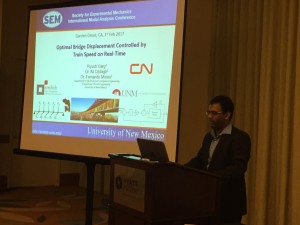 January 27, 2017
Tom Paez visits Department of Civil Engineering and SMILab.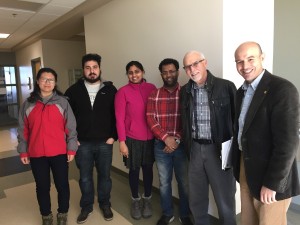 January 26, 2017
SMILab member Jose Alberto Gomez is going to defend his Master's Thesis on February 16, 2017 in room CENT 3031 at 11 AM. He has been offered a civil engineering position in 'Heuristic Actions'.
January 25, 2017
Charles Farrar visits Department of Civil Engineering and SMILab. Also presents in seminar and structural dynamics class.
January 24, 2017
Dr. Fernando Moreu and Dr. Mahmoud Reda Taha have been awarded National Academy of Science grant to fund research for railroad bridge safety. Click link below.
http://news.unm.edu/news/national-academy-of-sciences-grant-will-fund-research-for-railroad-bridge-safety
January 10, 2017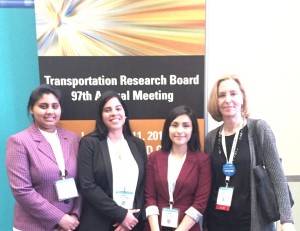 SMILab member, Shreya Vemuganti, presents her research at the Transportation Research Board Annual Meeting in Washington D.C. Photo with Jo Allen.
September-December, 2016
This fall semester, SMILab graduate student member Piyush Garg is a visiting researcher at the Harbin Institute ofTechnology in Harbin, China. He is working for Professor Li Hui at the Center of Structural Monitoring. Piyush's research is on guided wave detection system on wireless sensors. In the picture, Piyush Garg meeting with Professor Hai Biao from Northeast Forestry University.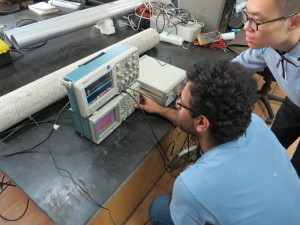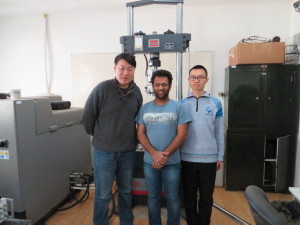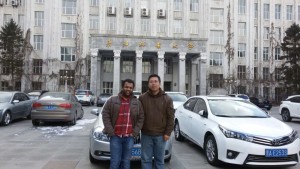 Summer, 2016
For SIMLab high school summer camp presentation by Manny, click here.
November 1, 2016
SMILab member, Shreya Vemuganti passed the Ph.D. qualifying exam.
September 22, 2016
Students of UNM CE 410, instructed by SMILab director, Dr. Fernando Moreu, learn "How-to" Design Structures Under the Bridge. Click here for more in formation and pictures.
September 28 – 30, 2016

SMILab director, Dr. Fernando Moreu, to deliver a presentation on Application of Low-Cost Sensors for Estimation of Reference-Free Displacements Under Dynamic Loading for Railroad Bridges Safety in the Adaptive Structures and Intelligent Systems hosted by The ASME (American Society of Mechanical Engineers). Click here for abstract.
August 28 – 30, 2016
SMILab director and members attended the AREMA 2016 Annual Conference and Exposition in Orlando, Florida. SMILab member Shreya Vemuganti presented a poster in the poster session sponsored by Canadian National and won the second place. (Left) Rebekah Wingate, John Leary, David Moses, Joseph Hosanna from Bowman, Barrett & Associates, SMILab direcctor, Fernando Moreu and SMILab member Shreya V.
July 29, 2016
The NO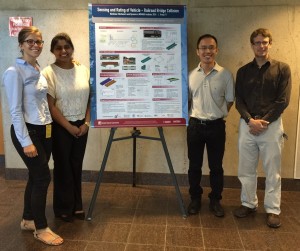 MAD institute has concluded with the participants presenting a poster about the research conducted in Sandia National Laboratories. Seen in the picture from left: Anela Bajric – PhD student from Denmark Technological University, Shreya Vemuganti – PhD student and SMILab member, Dr. Liu Bideng – Assistant Professor, Institute of Disaster Prevention, China, Dr. Matthew Brake – Component Science and Mechanics, Sandia National Laboratories.
July 26, 2016
High school mentees presented their work towards the end of the SMILab summer camp. They received certificates of merit from the director, Dr. Fernando Moreu.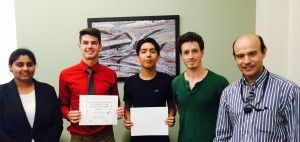 July 5, 2016

Shreya Vemuganti has been awarded the doctoral conference program award by the office of graduate studies of UNM for her presentation at the 2016 International Cross-tie and Fastening System Symposium.
June 20 – July 29, 2016
SMILab members Dr. Ali and Shreya to participate in the Non Linear Dynamics and Mechanics (NOMAD) institute at Sandia National Laboratory this Summer. One of the mentors will be Dr. Fernando Moreu.
May 19, 2016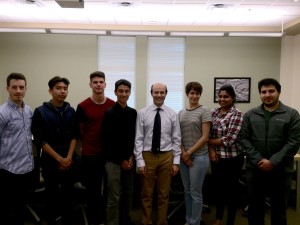 SMIlab summer camp: SMILab to mentor high school students in different engineering related projects this summer.
April 28, 2016
Civil engineering graduate students introduce the Earthquake Engineering Research Institute (EERI) Student Chapter at UNM under the supervision of Dr. Fernando Moreu. The kickoff meeting was a successful one with Dr. Yongchao Yang, from Los Alamos National Laboratory, delivering the guest lecture. SMILab members Dr. Ali Ozdagli, Shreya Vemuganti and Jose Alberto Gomez are among the EERI founders.
April 28, 2016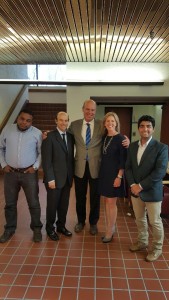 Smilab director, Dr. Fernando Moreu presented at the New Mexico 2016 ASCE meeting at Socorro.
April 25, 2016
Members of SMILab and students of Advanced Dynamics (CE 598) took an educational field trip visit to BNSF, one of the largest railroads in North America in Belen, NM. The purpose of this trip is to get familiar with railroad operations, railroad infrastructure, and to relate the type of instrumentation that railroads use to maintain and expand operations from an "industry" perspective.
April 15, 20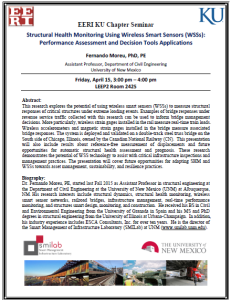 16
SMILab director, Dr. Fernando Moreu to present at Kansas University on the topic "Structural Health Monitoring Using Wireless Smart Sensors (WSSs): Performance Assessment and Decision Tools Applications"
June 14-16, 2016 
SMILab member and PhD student, Shreya Vemuganti is going to present at the 2016 International Crosstie and Fastening System Symposium at University of Illinois, Urbana-Champaign on June 14-16, 2016. Her research paper is titled 'Survey about Abrasion of Concrete Ties against Railway Ballast'. She has also been granted CE grant for travel. The abstract can be found here.

March 25, 2016

Structural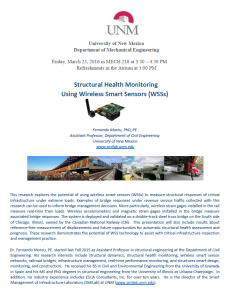 Health Monitoring Using Wireless Smart Sensors (WSSs) – SMILab director, Dr. Fernando Moreu presented in Mechanical Department, UNM. This presentation includes results about reference-free measurement of displacements and future opportunities for automatic structural health assessment and prognosis. This research demonstrates the potential of WSS technology to assist with critical infrastructure inspection and management practice
March 23 to April 20, 2016
'Shake It Up in Engineering' Wednesday Bonanza !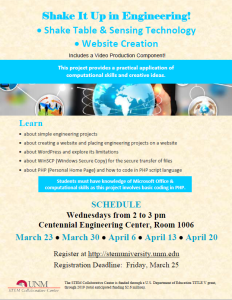 SMILab invites undergraduate students participated in a STEM class to learn about simple civil engineering experiments and share them by creating your own website. The class was conducted 5 Wednesdays from March 23 to April 20, 2016. Students participating learnt about essential tools such as WinSCP, PHP and WordPress and applied this knowledge practically in developing their own website. Video of this class can be found here.
March 15 – 17, 2016 

SMILab director, Dr. Moreu, has been selected the New Mexico Section lead representative for the American Society of Civil Engineers (ASCE) Legislative Fly-In Program in Washington, DC (March 15-17). Every spring, ASCE holds its Legislative Fly-In Program in Washington, DC, an intensive two-day program that provides participants with an inside look at the political process. In 2015, ASCE members visited nearly 250 members of Congress to share the civil engineering perspective on transportation funding and re-authorization as well as funding for water resources programs. Visit UNM web page for more information. Picture 1 with Michelle Lujan, picture 2 – From left to right: Tom Smith, ASCE Executive Director; Lambis Papelis, NMSU Professor; Fernando Moreu, UNM Professor; Mark Woodson, ASCE President. Picture during the 2016 Asce fly in at Washington, D.C. , March 15
Rebecca Wingate presents at UNM about Replacing a railway bridge: From inspection to construction. She also participated in a discussion on Women in Engineering (left picture) with graduate and undergraduate students hosted by civil engineering women faculty, Dr. Susan Bogus and Dr. Vanessa Valentine. More Information about Rebecca Wingate. She met with SMILab along with the chair of the department, Dr. Mahmoud Reda Taha
February 26, 2016
SMILab presented a poster (left picture) on Smart Management and Infrastructure at The NMCRDC Unmanned Aerial Systems and Remote Sensing Workshop. Also, the director of SMILab, Dr. Moreu, delivered a presentation about smart and remote sensing technologies.